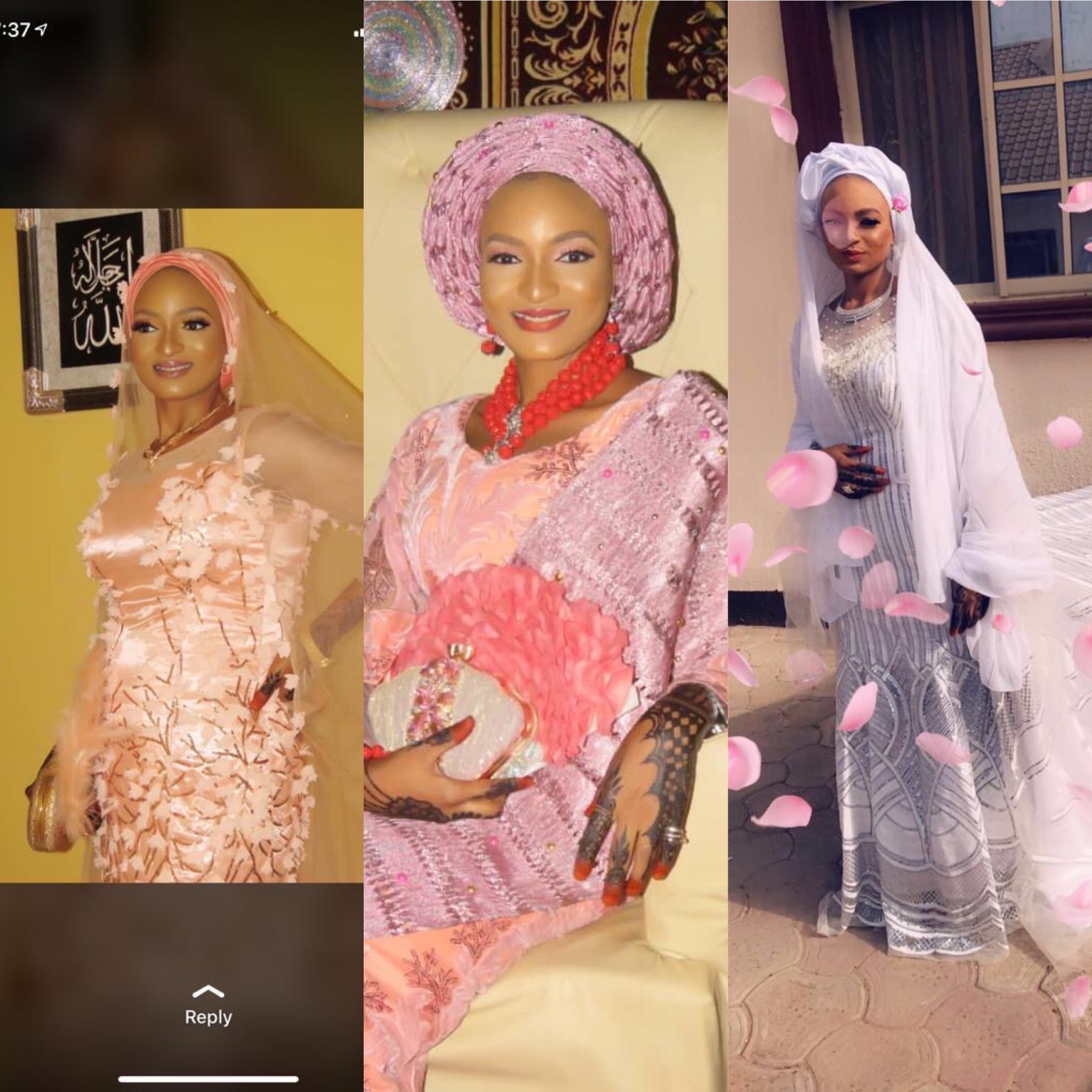 A motivational Study about my weight loss journey
Highest weight : 148
Operation day weight : 135kg
Current weight : 87kg
I was morbidly obese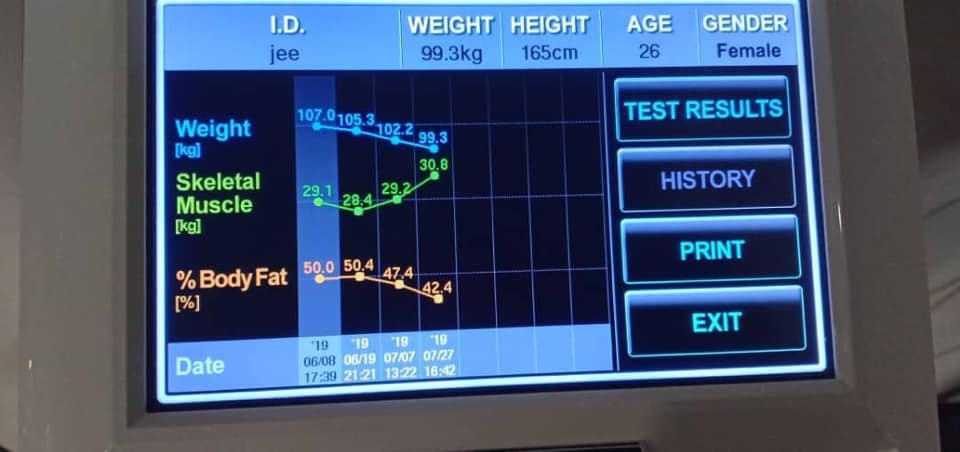 ( BMI was even more than obesity class 3)
But i didnt give up on myself.
1) I wasn't happy with my weight. Always sad mood swings and My Dr saw that is me!
She said to me
My dear it's obvious u are not happy with your body, then d only thing for u to be happy u habe to work hard and lose it!
Or
Psychologically accept this is me! And accept it and live your try making healthier options still.i tried this but still wasnt happy
2) I was diagnosed PCOS. They did tests sef and said I do not ovulate monthly
Now 3 Drs told me, pls you do not have PCOS. I don't need anyone to tell me I am ovulating as I see all the signs and feel it my body.
My periods use to come once in 42-51 days.
Now I have perfect 28 days cycle!! Like 28 days!
3) I developed back ache! I couldn't bear it as I stand so long everyday. I was on pain killers everyday!
It was my alarm! My body telling me I can NOT bear this weight! But now i say Thank God!! No more!
4) I developed severe toothache as I was a chocolate person! Oh my God! There is no a day I do not take a pack of snickers!
I wake up in d morning and have chocolate as first thing with excuses of fueling me to do my activities before breakfast! During the day I will have 2-3 more! It was an addict and I found all reasons to eat it.
I do NOT crave for anything sugar anymore!
Haven't had any in 7 months!
5) I started having issues with sleep. I cant sleep for 2 hours a straight! Like cant! I will fall asleep but an hour+ I am awake!
I thought it's normal , may be just my nature since I love to study a lot, may be my body just want to read books instead of sleep.
I discussed with few Drs, they said No!!! A normal body sleeps for 7 hours, 2hrs sleep a day can never be enough!
Now I can say Thank God I can sleep (if I allow it) for 4-5 hours straight without waking up.
6) My mood is better.
I am more confidence.
I am happy I make healthy choices daily.
7) I am more beautiful!! I look 8-10 years younger than I looked before. I am happy!
Many people , friends, family shocked but I still see the big me. I still know I have more to go and by God's Will WE ALL SHALL ACHIEVE OUR GOALS.
I am having a stall at this for weeks, but It doesnt bother me. I am happy I live every day making healthier food choices, exercising.
Please another important is having a support system. Don't be secret about your diet and lifestyle modification. Trust me it works better.
I went to relapse so many timesss and gave up because I dont tell pple, your colleagues , friends will invite u for food, eat out, but letting them know they don't even invite u. Some will even order healthy keto friendly things for u because they know what u want and will be supportive.
For example, a friend actually took few hours trying to get me a no sugar dark chocolate as birthday gift. One took days searching days to get a keto birthday cake.
So u see let pple know and u will be happy!
By the way the chocolate is still there, though keto friendly , I just don't have d mood to even open it up and eat.😁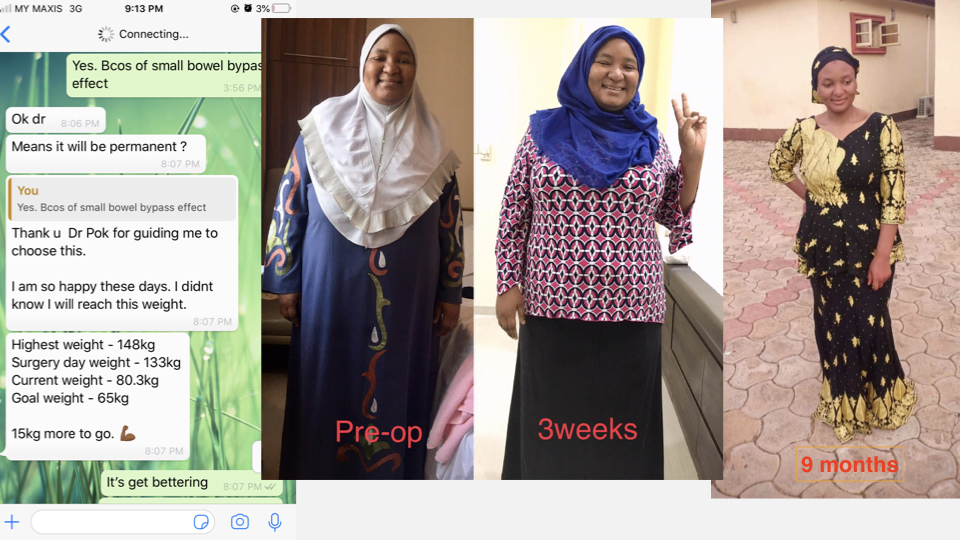 Why I chose Dr POK
I went to 3 different Bariatric surgeries and had consultation with them but my heart was more comfortable with Dr Pok. Not just about he is so experienced in this, he made me feel so comfortable, he was frank and straighforward, always take his time to explain all I need to know, answered all my questions and remove all my fears. My family wasnt with me but all explanataion I gave them over the phone of each Dr, they were also much comfortable with Dr Pok. He build good rapport with us .He became our friend not just a surgeon.
If I have a friend or family who wants to go through this will suggest Dr Pok over again to them.
Even after the surgey, he still keeps in touch and check my progress frequently and advices and suggests what I should , type of exercises ai should and keep motivating me.
He has never left me alone in this.
*Thank you Dr Pok*
I would not have reached this far without you.
I am happy! All thanks to my God for the will and strength , for my family , doctor and friends supporting me in this.
Let's keep pushing hard! Do NOT give up